Page 2 sur 2 •

1, 2

Hello everyone
part 6 missing ???
I can assure you all that the part 6 is programated on the application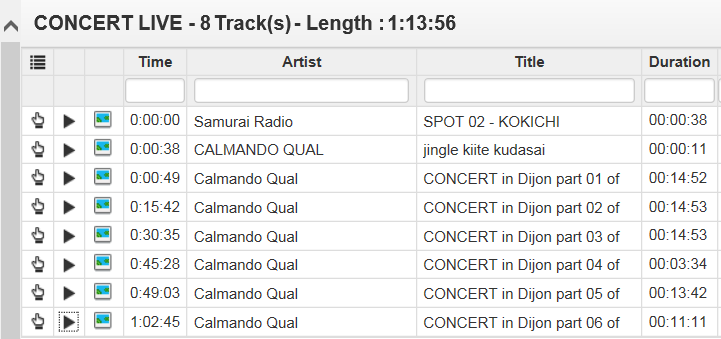 complete concert duration is 1'13''56'' including jingles...
I'll check again....  


_________________


The last part was really skipped.  

And this time "Emnity for god" was the first song of the 1 hour playlist. the rest as in the same order as all other times.
so only the concert was incomplete.. but maybe it happenend because the niji show was 8 min over time? The concert did start at about 22:09
don't guess that the niji show is the cause of the problem, and the concert can begin after 10:00pm and be broadcasted in integrality instead.

did you hear the interview after the concert ??



_________________


perhaps the succession of playlist could have been the cause of the problem
I replace the niji music show by j-pop list, then I include the interview just after the 6 part of the concert, then I program the 1-hour Calmando Qual playlist, hoping it will solve the problem.  


_________________


yeah it was kinda

Till 22:08 Niji show
22:09 Calmando Qual gig till part 5. then the interview and then the playlist.
great !!

Thanks !!  


_________________


Page 2 sur 2 •

1, 2

---
Permission de ce forum:
Vous
ne pouvez pas
répondre aux sujets dans ce forum